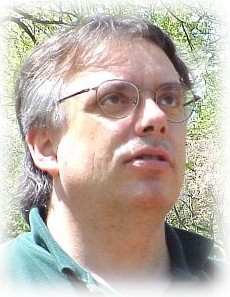 Click here for Don's "Memories of Max Mathews"
Don Slepian is a true pioneer of electronic music. He started composing in 1969 and released his first compilation cassette in September of 1978. He left Hawaii and came to Bell Laboratories in Murray Hill, NJ, where he was "Artist in Residence" in computer music for the next two years. In 1980 he released three more cassette tapes on the Hawaiian record label Plumeria Productions: The Sea of Bliss, New Dawn, and Open Spaces. In 1981 he self-released his first LP, Computer Don't Breakdown. In 1982 he signed to Fortuna Records, who brought his music to a much wider audience with several releases throughout the '80s. The same year he released a collaborative tape with Lauri Paisley as Synarios called Uncontrolled Voltage in a classic electronica style. Slepian combines unique skills in music and electronics with a lifetime of improvised keyboard music performance. Born into a scientific family, Slepian showed both musical and technical talent early in life. In 1968, he programmed computers and built electronic music circuitry, sculpting sound with classic electronic music studio tape techniques. Starting in 1972, he was a tester on the early internet as a member of the Defense Advanced Research Projects Agency (DARPA). He was also a synthesizer soloist with the Honolulu Symphony Orchestra, Music Director of Honolulu Theatre for Youth, and ARP Synthesizer Sales Rep for Hawaii. His CV could go on for another page. His latest LP (yes, LP) contains all the tracks from his extremely rare debut tape Electronic Music from the Rainbow Isle (1978), plus two tracks from Uncontrolled Voltage (his 1982 release with Paisley) and one track from 1982's Rhythm of Life tape, a Fortuna Records release.
Don at Bell Labs
and the Origins of Digital Arts
Don Slepian has long been connected with Bell Labs computer music. He first met the Bell Labs scientist Dr. Max Mathews as a terrified 9 year old passenger on Max's sailboat off of Cape Cod in the summer of 1962. Perhaps Dr. Mathews did not inspire confidence at the helm of a small sailboat in rough waters. Slepian worked as a Technician in the computer music output room in Max's laboratory during the summer or 1971 and helped build some of the fixed tuned resonance synthetic timbre electronics that became parts of the GROOVE system and the first Bell Labs digital violin in the mid-70's.
In the fall of 1978
Slepian
released his first cassette, "Electronic Music From The Rainbow Isle". When Dr. Mathews heard this cassette he invited
Slepian
to come to the Labs as Artist in Residence to work with the Alles Machine in the fall of 1979. This was not a formal job. It came with a Resident Visitor's pass and a small cash weekly stipend along with supporting Bell Labs publicity efforts with occasional electronic soundtracks. For a year
Slepian
worked diligently every evening with the Alles Machine and got to know it better than even its creators. A musician has a different relationship to an instrument than anyone else. It involves a degree of intimacy and passion. There was plenty of both here. Consider it to be early cybersex.
Slepian
worked with software engineer Gregory Sims to install a three step sequential permutation algorithm in the Alles machine, the last change to the system software before it was pulled off of support and brought upstairs to Max's lab. He used this facility in two full length albums, "
Sea of Bliss
" and "
Rhythm of Life
" as well as several shorter compositions such as the bass line of "
Fast Motion
" . This interest in sequential permutation came from his earlier work with the EML 400/401 analog sequencer in his retrograde permutation patch which may be heard on "
Glimmerings
" (1976).
Slepian
was fascinated with the Alles Machine's looping envelopes and quirky 2 second digital reverb. The reverb was a very early design with 64 programmable taps. This was long before today's smoothing algorithms and beautiful sounding reverbs. It was noisy, grainy and produced sonic artifacts when hit with sharp transients. The looping envelopes, akin to today's MIDI echo devices together with this crude early digital reverb produced the sonic signature of the noted first piece of computer generated ambient electronica, Sea of Bliss.
Slepian
was part of an underground Arts Scene that flourished at Bell Labs between the hours of 10 pm and 7 am during the 70's. Along with Lillian Schwartz and other little known talents the first computer art and computer music sprang forth while the Bell Labs scientists and the rest of the world slept. This was a birthplace of today's digital arts.
Above is Don Slepian's classic "Sea of Bliss" with a visual accompaniment.
Together retitled, "Algorithms inTime"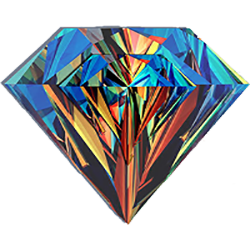 Electric Diamond. All Materials Copyrighted 2020