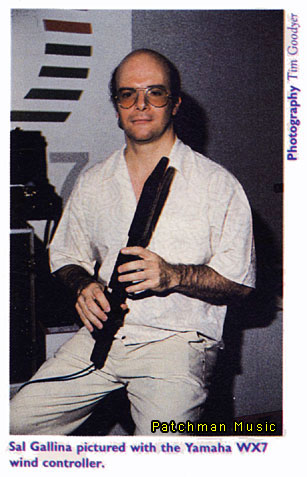 The Story of Sal
The history of any field is filled with pioneers whose contributions go unrecognized. This profile is a tribute to one of the originals -and "unsung" pioneers of electronic music - Sal Galina.
I first heard about Sal Galina from Bill Bernardi.
Quick background: Bill Bernardi was the inventor of the Lyricon, the first wind synthesizer. Or at least the first woodwind based wind synthesizer and controller versus Neil Steiner's brass based wind synth. The core premise behind all the wind controllers was to bring the expressivity of wind playing to the emerging world of electronic music performance - to make the endless array of new sounds more musical and human.
The year must have been 1977. I was a young composer living in New York City. My instrument though was the bassoon. Now as much as I love the bassoon, it is not quite the best instrument – at least back then - to rock out on or explore the amplified world of electronic music. Then one day in a music magazine, I uncovered a small ad for a company called Computone, describing the new Lyricon wind synthesizer.
With the realization that there was an instrument that could shape the expressivity of electronic music, I was on the next bus to Boston and down to Cape Cod and the town of Norwell. I found my way to the Computone headquarters, a small one-story warehouse, and met Bill Bernardi.
It was at that time that Bill suggested that I get in touch with Sal Galina. He described Sal as an odd, genius, tech-wizard prodigy. With no training in engineering or technology, this Sal Galina had been modifying the inner workings of synthesizers, effects boxes, amps, speakers, and both electronic and acoustic instruments, to amazing effect. Bill must have given me his number.
I returned to New York and waited the few weeks for the Lyricon to arrive. Once I had a working instrument in hand, I was hooked. It was non-stop exploration. Yet, I knew I was meant to meet this Sal Galina. I called the phone number Bill had given me. I was greeted by a very welcoming voice – a mix of refinement, cool jazz musician, and Italian Bronx. He invited me to his home to see/hear what he was up to.
Sal lived in the basement of his family's home - a solid middle class, Italian-Jewish area of the Bronx. The house was situated across from the Bronx River Park. I walked up the driveway and entered a side door that led into the basement. Bright lights, linoleum floors, electric parts, wires, soldering irons scattered everywhere – on benches, tables, the floor.
Sal himself. A somewhat diminutive man. Completely bald, even though he was still in his 20s. Round – owl-like tortoise shell glasses and a goatee. Striking, all very much a cool cat from some beatnik movie. Again, he was gracious and hospitable. Who knows what we initially talked about?
But it is not what he said that was important, it was what happened next, when he powered up his gear, picked up his Lyricon and played.
I was simply dumbfounded. Sal smiled enigmatically. Clearly, it was a reaction he was used to getting.
The sound? A vast orchestral string section, massive, multiple parts, drones. Enveloping and overwhelmingly expressive - from tiny pianissimos to a thundering, full-throated Mahleresque soundscape.
Well, it didn't sound exactly like a real orchestra. But the sound that it did create was like nothing else I had ever heard from any synthesizer or electronic music setup, especially live and in real-time.
From there Sal went to electric guitars - his version of the Jimi Hendrix Experience. And then onto a kaleidoscope of otherworldly possibilities. And in that instant, my concept of what was sonically possible was changed forever. And I would say that was true for anyone who had ever heard Sal Galina play.
His instrument? Sal took me on a tour under the hood. He had concocted a synthesizer like no other. On the surface, it looked like a monophonic Oberheim (OB-1) with the keyboard removed. Under the chassis were actually three OB-1's. The audio behemoth was then routed through an array of customized FX devices – often commercial boxes that had been cannibilized and reassembled via Radio Shack parts into one monstrous effect. I went home aware of an entirely new world of what was possible in sound. It certainly impacted what I was to produce from there on in.
Sal and I quickly became friends. I learned his history. Prior to adopting the Lyricon, he developed The Chromulizer - Sal's attempt at turning his acoustic sax into a proto-wind controller for synthesizers. (Later adopted by experimentalist players such as Sonny Rollins and Edgar Winter.)
Sal and I, along with one or two other players became the Lyricon pack - the pioneering wind synth players on the music scene in New York in the 1970s and early 80s. We would get together to jam, played recording sessions, and in one instance were the entire wind section for a Broadway-bound show about Toulouse Lautrec. (The production didn't quite make it all the way to Broadway, but we did the off-Broadway production in the famed Ukrainian National Home in The East Village – a local venue for up and coming shows.)
Acquiring hand-me-down equipment from Sal was always special. He had all sorts of castaway items, synth modules, FX boxes – customized items that were like nothing else on the market. I would go to the Bronx, cash in hand. Entering his colorful, chaotic bazaar, we would consult and transact over his home-made electronic esoterica. However, besides exchanging cash for equipment, a transaction with Sal inevitably included a trip to Arthur Avenue, the Italian restaurant section of the Bronx for a meal to seal the deal. And Sal would always shake his head in dismay, when I ordered a Coke with my veal parmigiana instead a class of wine.
As electronic music turned digital, Sal went with it, becoming the chief consultant for the Yamaha Wind Controller. The prototype is in residence at The Smithsonian Museum in Washington, D.C.
Eventually we lost touch. But I heard rumors. Sal had moved to Florida. He owned liquor stores. He was working with the FBI in audio forensics and had moved to upstate New York to do secret, mysterious work. He knew things we didn't. Made perfect sense, considering it was Sal.
Then sadly, I heard he passed away in 2007.
Sal's importance? I don't think it was in hi-tech wizardry per se. He was self-taught, and I am sure most geeks could wire rings around him. Sal's contribution was in the realm of imagination - expanding what was sonically possible – to go boldly where no sound-explorer has gone before.
He made me aware - and I am sure countless others – just how vast and powerful the sound from one solo-voiced instrument could be. His sound greatly influenced my work. And to this day, I still stand firmly on one side of the analog-digital divide. Nothing, I have heard to date from digital synths, come close to the vast world of Sal's wind controlled analog sound palette.
My most cherished Sal Galina memory? Sal and I were walking in Central Park – a bright, glorious Spring day. Sal was complaining that I was walking too fast. I turned to him quipping, "I am like a bicycle. If I go too slow, I fall over." We both laughed. Sal turned and curiously thanked me. "For what?" I asked. "For being a friend." He went on to say something to the effect that growing up he had been such an oddball, no one would play with him. We walked on – a bit slower – bonded like brothers. And I was left to ponder: What was Sal's oddity to some was simply the misperception of genius.
© Copyright Electric Diamond