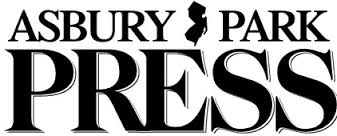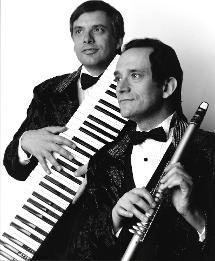 The Orchestra of the Future
by Albert H. Cohen
Composer says Lyricon will help form pit 'orchestra' of musicals in the future
The instrument Stuart Diamond is holding in the photograph is part of something called a Lyricon. What? Never heard of it? Don't be surprised; very few have. It's a wind synthesizer developed by Bill Bernardi, a former space engineer from Norwell, Mass.
The instrument is capable of creating sounds as diverse as the tinkle of a piccolo or the growl of the lowest notes of a tuba.
Diamond, a New York composer and player of the Lyricon, sent me a copy of a new cassette made with East Brunswick Township composer-performer Don Slepian called "Electric Diamond." I had met Diamond at a reception at the West Orange home of composer Richard Nanes in February.
No sooner did the tape arrive with an informative letter, then Diamond called to say, "If you want, to hear the kind of pit 'orchestra' that's the future on Broadway, come to the George Street Playhouse and hear the music played at 'Jekyll and Hyde.'
I had a chance to hear the Lyricon again, as part of the ensemble for the show, which ended its run earlier this -month in New Brunswick.
The "orchestra" for the play consisted of three keyboard synthesizers, an amplified double bass and the Lyricon. One of the synthesizers was devoted to percussion. The others created effects as diverse as a string quartet or a full band. It was beautifully orchestrated for this type of musical by Larry Hochman, from the score by Norman Sachs. The conductor, Joel Silberman also was enthusiastic about how innovative Hochman's scoring sounded.
Diamond's point was with the kind of versatility provided by keyboards and a Lyricon, could replicate, everything from a string quintet to a symphony orchestra.
As he was sitting in the pit for his three-week gig with this show, Diamond was musing about how the Lyricon has changed his life.
"I started using the instrument as a tool to aid in my composing work," he said. "It's so easy to play. You blow into a mouthpiece that looks like the end of a clarinet. But you are not vibrating a reed. There is a rubber diaphragm which produces vibrations that are converted into an electric signal. The device is pure analog: from the input through to the output. My colleagues on electronic instruments tell me I'm so out of date; all their stuff is digital.
"Recently several other companies, including Yamaha and Akai, have put out wind controllers for their new digital synthesizers. But for my money they are a pale imitation in comparison to the subtlety and power of the original Lyricon," Diamond said. "When people first heard it, they were so excited they kept asking me to play more. Soon it just took off. The next step came last week, when Don and I made our first foray into Romantic music with a performance of Mussorgsky's 'Pictures at an Exhibition' in New York." He proceeded to push some buttons on the console and played a passage in the lowest register of the French horn; pushed another and sounded like an E-flat clarinet. "That low part is for 'Gnomes' in `Pictures,' " Diamond said.
It is unusual for electronic music in that it was recorded live to tape — no multi-tracking or midi-sequencing was used. Diamond said his duo is the "first electronic classical music chamber ensemble in which performances heard on tape are exactly the same as those heard at a live performance." Several excerpts from the classics are included: a voluntary by Clarke, parts of Handel's "Water Music," several J.S. Bach excerpts and two Marcello Sonatas for oboe and continuo. The major works on the long tape (over 86 minutes) are by the two performers. Their style is obviously New Age with a clever twist in two of the pieces — the strong flavor of American Indian music. "Indian Nations" and "Painted Clouds" are easy listening tone pictures with lots of sonic variety in the New Age idiom. Both are well performed, as are the other original pieces, "Journey Through the Middle Ages" and "The Furnace." The full range of sound is explored in these pieces without ever sounding gimmicked to take advantage of electronic trickery.
Albert H. Cohen is a music historian, critic and manager of the Music Critics Association.